Shattering Ceilings
Venue: Bright Courtyard Club, Baker Street
Thursday 14th May 2015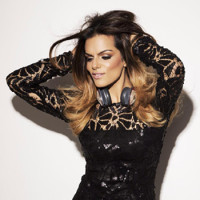 Neev Spencer
Neev Spencer is officially the most listened to British female DJ in the UK.
With her daily radio show on Kiss FM, Neev draws an audience of 1.5 million listeners every day and is in her 8th year at the station.
From interviewing the likes of Pink, Rihanna, 1D, David Guetta and even David Cameron to name just a few, Neev is well known for her down to earth attitude and larger than life personality. Off air she has headlined in Ibiza for the last three years and DJs every week in the UK's coolest spots and super clubs. Neev is also the official DJ for Nike Women and is booked frequently to DJ for brands such as River Island, London Fashion Week, Red Bull, Grazia magazine and Nokia.
As well as her show, DJ gigs and voiceover work, Neev is kept busy by her role as ambassador for several charities. She works with Dance4Life, Mencap, Women of the Future, and The Princes Trust. In 2009 Neev was named Young Achiever of the Year at the Asian Women of Achievement Awards, leading to an invitation to Buckingham Palace.
Follow Neev here
Twitter – neevofficial
Instagram – Neevofficial
Facebook – https://www.facebook.com/neevofficial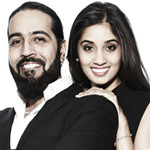 Sunny and Shay
Sunny and Shay are the Stars of Channel 4's The Family which was nominated for a Bafta in 2009. In this breakout role their Indian wedding was watched by millions in the UK and has been aired in Australia, South Africa and Dubai. They are a Husband and Wife team who say what they think and have been together for over 11 years. They have hosted a radio for over 4 years at BBC London and now at BBC WM every day and were nominated for Best Radio Show at Asian Media Awards
They recently launched an online comedy series, 'As We Proceed' has over 120,000+ views on YouTube. They are always up for a challenge and currently have a chat show on the biggest Asian channel in the country, Brit Asia TV sky channel 824. A daily breakfast show, 'The Big Bite'.
There's a 9 year gap between Sunny and Shay and they are both passionate about being independent as well as a couple. Shay is a big music fan and Sunny writes a monthly film column on www.asianculturevulture.com
YouTube.com/theSunnyandShay
BBC.co.uk/SunnyandShaywm
BBB.co.uk/SunnyandShay
@SunnyandShay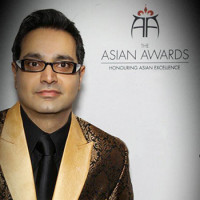 Paul Sagoo
Paul Sagoo is the founder and Director of Lemon Group International Ltd, a UK-based investment company.
In 2009 he founded The Asian Awards, which focusses on awarding the worlds best Asians across a multitude of disciplines. The Asian Awards is now into its 6th year and has grown to become one of the biggest events in the UK. Earlier this year the events twitter hashtag #TheAsianAwards trended worldwide for 3 hours at the top spot.
Paul consults to businesses across the globe often with a hands on approach and is working on a number of new initiatives such as The Newton Awards, due to take place in the Winter 2015, which will honour the very best British scientists.
He has strong experience in helping businesses achieve strategic commercial change in terms of growth, operations, sales/biz dev, acquisition, mergers, investment and turnaround.
Paul regularly speaks on a number of interest areas such as Asian business, entrepreneurship, motivation and corporate development.
His goal is to make businesses and people that I interact with, happy and profitable. Paul is a well-known and likeable character within the UK Asian community.. also has made a name for being well-dressed having been voted one of the best dressed British Asians in a recent survey.
In 2013 he was asked by LinkedIn to be part of their new Influencer program. Only 150 people were chosen for this worldwide and included the likes of Barack Obama, Richard Branson, David Cameron and Deepak Chopra.
PRESS RELEASE - Shattering Ceilings
On Thursday May 14th 2015, Neev Spencer, the most listened to British female DJ in the UK, Sunny & Shay Grewal Stars of Channel 4's The Family and radio hosts on BBC London and now at BBC WM along with Paul Sagoo entrepreneur and founder of the Asian Awards spoke about how they had "Shattered Ceilings" at the latest Women Empowered event.
Reena Ranger, founder of Women Empowered, spoke on how she was looking forward to the speakers sharing their insights into how they dreamed, dared and achieved; how they broke free from the mould and soared and said, "We hope you will take inspiration from their stories and shatter the ceiling that may be above you".
Neev Spencer spoke about her father's desire to give his children the best education possible and her mother's encouragement in pursuing the arts. She candidly spoke about convincing her parents about the career path she wanted to pursue compared with a more traditional path. She spoke about the years of hard work and how her ambition drove her to strive for more, about taking chances and going for it and being determined. Those traits have ensured that her hard work has been recognised and rewarded. Neev's pride in her charitable work shone through, which was ignited by her brothers learning difficulties. She said that she credited that with giving her a different perspective on life and being grateful for the small things and if you want to do well in anything, you have to work hard and make sure you have longevity and not be afraid to fail. She ended with words to inspire "Be bold, brave and true to yourself and don't let anyone hold you back, you can make miracles happen."
Sunny, of Sunny and Shay, spoke about his issues with dyslexia and how he had to overcome that and that family support had been his rock. He thought it was fitting to talk of the women who had empowered him at a Women Empowered event and credited his mother and his wife to getting him to where he is today. He spoke about being the best at what you do and not relying on people liking you or supporting you just because you are Asian and your prospective supporters are too; there has to be substance behind what you seek support for.
Shay spoke about the importance of networking and knowing a diverse range of people not only for professional contact but also personal contacts that you can reply upon and support you through your journey. She emphasised that one must look at what makes you different from other people around you and how to translate all that into creating and maintaining a career for yourself. "Complacency is your worst enemy" said Shay and highlighted the ever changing world that we live in and in order to keep your self relevant and going, there is no room for complacency and you must keep growing and evolving. She said one of the most importance things to have is to believe in yourself and try to look at negatives and see if they can be turned into positives, self-confidence and belief.
Paul Sagoo spoke about how he was inspired to start the Asian Awards after attending an award event which he felt that he could have been organised and put together better and turned his criticisms into action. Seeking out strategic alliances in an industry he had no idea of what was the key to successfully starting and starting with a bang. He spoke of external circumstances presenting challenges to his venture and how he had to work hard to overcome them despite being dissuaded from continuing by some of his backers and partners and his persistence and dedication paid off. He looks at new mediums and media to grow. He emphasised the need for loving what you do and loving it completely in order to do it better than the next person. He said, "You need passion to bring about the courage to keep going. Skills can be learned and you need more to differentiate yourself. People buy into people and how you engage with them. The real skill in today's world is to have emotional intelligence." He spoke about the need for people to be the best they can be and not to accept mediocrity and not to rely on nepotism but to reply on your skills and raise your game.
The evening ended with a busy and bustling Q&A session and networking followed by dinner whilst guests browsed through the stalls of Haute Coture by Payal Malhotra, Kasthuba Jewels and Tanyaa. Reena Ranger thanked those who made the evening possible and the speakers for sharing their stories which had gone a long way to inspire, engage, encourage and empower.
Women Empowered or WE as it likes to call itself and feels it is, aims to encourage women and men to be the best at whatever they choose to do by providing role models to engage us with their journeys and inspirational stories. This in turn it is hoped will encourage us to take that leap of faith. Empowered with their advice and experiences enables people to make the best of their individual skills and talents and achieve whatever personal and professional goals they may have.
Ultimately WE would like you to do whatever that special thing is, that thing that makes the difference to your life as you see it. WE always includes men in its discussions and encourages them to attend.
WE aims to provide a forum, a platform and a network where you can find support, mentoring and inspiration. A place to meet likeminded people or that of a different mind-set and create alliances for the future. For more information or to be notified of future events please visit www.womenempowered.co.uk
Disclaimer: Speakers may change without prior notice. All partners at the event are individual third parties and personal due diligence should be done.
Women Empowered shall not take any responsibilities for any transactions done with any third party organisation.
Please Note: Photos and video recordings may be taken at this event and used on social media sites. Anyone that do not want to be included please let the organisers know.