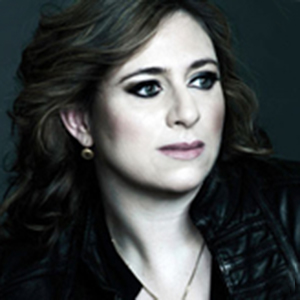 Ahlya began her career at PWC as a graduate trainee accountant. In 1996, Ahlya joined Condé Nast International as Assistant Business Manager and was involved in strategic analysis and researching new market opportunities. In 1998 with the launch of Russian Vogue she was seconded to Russia as Editorial Business Director before returning to Tatler in the UK as Managing Editor in 2001. Ahlya was runner-up in the Asian Women of Achievement Awards (Media Professional 2009) and was appointed to the English Cricket Board as Head of Women's Cricket Committee in May 2009. She left Tatler in 2010 to become Managing Director of the fashion label Tata Naka before moving to her current role, in 2014 as Managing Director of Amanda Wakeley.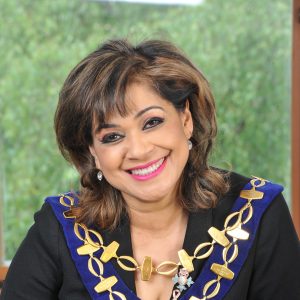 First elected to Chiltern District Council in 1999, Mimi is best known for her campaigning to make life better and improve her local area, saving the greenbelt, preserving catchment areas and saving post offices.
Mimi served as a cabinet member from 2004-2013 holding the portfolio for Community, Young People, Sports and Leisure, Communications and Customer Services.
In 2011, Mimi also stood for election to Amersham Town Council and having been elected to both the town and district councils, continued as a cabinet member on CDC and also became the Mayor of Amersham, a post she held until 2013. Mimi is currently the last Mayor to have served for two consecutive years.
In 2015, Mimi became the Chairman of Chiltern District Council. She is currently the Armed Forces Champion for the district and serves on the Armed Forces Covenant Board for Buckinghamshire.
In all her elected roles, Mimi is the first Asian councillor to be elected to both the district and town councils, the first Asian cabinet member, mayor and chairman.
In 2011 Mimi was awarded the OBE for her services to her local community and to women, especially women from BAME backgrounds and was a contributor to the Equalities Act 2010 and work law changes in equality through the cross party BAME Task Force.
Major national campaigns include the creation of the 12A cinema classification, enabling children under the age of 12 to see a 12 rated film with an accompanying adult, the Save Our Post Office campaign, halted the post office closures across the country and the BAME cross party women's task for encouraged women from all backgrounds to get involved in public life.
Mimi writes for a local magazine and hosts her own chat show on Wycombe Sound 96.6FM, which airs every Sunday at 12 noon.
She is married to Robin, celebrating their 30th Wedding Anniversary this year, and they have two children aged 24 and 22. The Harker family have lived in Amersham since 1988.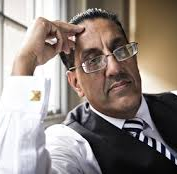 Nazir Afzal OBE, was Chief Crown Prosecutor for NW England and formerly Director in London. Most recently, he was Chief Executive of the country's Police & Crime Commissioners. During a 24 year career, has prosecuted some of the most high profile cases in the country and advised on many other and led nationally on several legal topics including Violence against Women & Girls, child sexual abuse, and honour based violence. He had responsibility for more than 100,000 other prosecutions each year. His prosecutions of the so called Rochdale grooming gang, BBC presenter Stuart Hall and hundreds of others were groundbreaking and drove the work that has changed the landscape of child protection. He was appointed to the Independent Press Standards Organisation (IPSO). He is also National Adviser on Gender Based Violence to the Welsh Government. Most recently he joined the advisory board of Google's Innovation Fund for counter-extremism.
Nazir is a tutor for several leadership programmes in the public and private sector. He has made presentations to dozens of diverse organisations in this country and abroad. He is on the European Union and Council of Europe  list of expert speakers. He has given hundreds of interviews in all forms of media. Nazir gives a considerable amount of time to charitable work and is trustee & Patron of several NGOs including Jan Trust, Karma Nirvana, EngageMe, Halo Project & Savera and former Chair of the Prince of Wales' Mosaic Trust. He is Pro Chancellor of Brunel University. He is an Honorary Fellow of the University of Central Lancashire, and awarded an Honorary Doctorate in Law by the University of Birmingham and this year an Honorary Doctorate by Manchester University. He assists the UN on rule of law, for example, he has chaired conferences in New York, Madrid, Norway and Geneva on various justice topics.
Nazir's has received many accolades, in 2005, he was awarded an OBE by the Queen for his work with the CPS and involvement with local communities. He has also had the honour of being the only lawyer to ever prosecute a case before the Queen. In 2007, he was awarded the CPS's Public Servant of the year, named Legal Personality of the Year by the Society of Asian Lawyers, the UK Government's Justice Award 2007 and awarded the Daily Mirror newspaper "People's award" voted for by readers. He was awarded the Asian Woman Magazine Excellence Award and the Law Society/Bar Council Mentoring award.  Nazir was also selected for the Asian Power 100 along with the Muslim Power 100 list, recognised as one of the 100 most influential leading Muslims and Asians in the UK.  He has been listed in the Pakistan Power100 which regards him as one of the 100 most influential people of Pakistani origin in the world today. Awarded the British Pakistani Jubilee Award 2012, A lifetime Achievement Award by the Power 100, and  the British Muslim Award in 2013. He was Asian Media Group's "Man of the Year 2012," and the Asian Achievers Award 2014.  The acclaimed BBC Film "Three Girls" was based on his case & featured Ace Bhatti playing him.
"An inspiring figure, forensically intelligent" – Times Editorial Nov 2012
"Until recently crimes encountered by pioneering prosecutor rarely troubled a courtroom, now these issues have risen to the top of the Policy agenda" – The Independent July 2012
"The authentic voice of British Justice" – New York times Oct 2013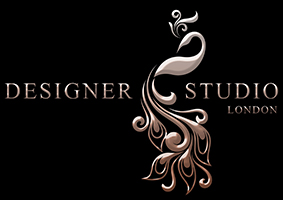 Running Order for the event:
6.30pm – 7.45pm Doors Open for networking
7.00pm – Canapés Served
7.40pm – Welcome address by Reena Ranger
7.50pm – Address by Nazir Afzal OBE
8.00pm – Address by – Mimi Harker OBE
8.10pm – Address by Ahlya Rafique Fateh
8.30pm – Q&A session with panel of speakers
8.50pm – Sponsors address
8.55pm – Closing address and vote of thanks
9pm -10pm – Dinner and Networking
Ahlya Fateh, Managing Director of Amanda Wakeley. Cllr Mimi Harker OBE and Nazir Afzal OBE, former Chief Crown Prosecutor for NW England and formerly Director in London were the stellar line up for the latest Women Empowered event entitled "Making a Difference" sponsored by Barclays Embrace Network , the speakers shared their stories about making a difference in their lives and the wider world.
Reena Ranger, chairman and co-founder of WE,  introduced each speaker, "their bios do not begin to do them justice, they have all made huge differences in the outside world,  through the campaigns they have lead, the social and cultural change they have contributed to or the prosecutions they have lead". Reena spoke candidly about each speaker and the impact that they had personally on her, as role models they had helped her to envisage and navigate her way to achieving her goals, their advice had been silent support and strength and their example had been profound in their teachings.
Cllr Mimi Harker OBE, responsible for the campaign and a subsequent 12A cinema classification of a major Hollywood blockbuster the first Asian Mayor of Amersham, spoke about every person having the ability to make a change, one person can, she emphasised. She spoke of all the wonderful life experiences she had had, all because of one action. The advice she now gives to all whom she meets is that when an opportunity presents itself, don't second guess yourself; see that opportunity as an open door and walk through it boldly, bravely, with confidence and  expectation. If you don't like what you see you can come back but if you don't try you will never know what lies beyond it. She spoke of her naturally shy nature and how the journey she has been on has enabled her not only to speak to anyone or address a room of people, but also make change through many channels and how that change had altered her as a person. One person can make a difference if you put your mind to it!
Ahlya Fateh, who has held a number of high profile roles in the fashion industry, spoke about that feeling that many experience that was something bigger was to be done in life. The most important way one can make a difference is to live the biggest life. She told the audience, "be bold and mighty forces will come to your aid. In the past, whenever I have fallen short in almost any undertaking, it was seldom because I hadn't tried and failed, it was because I had let fear of failure stop me from trying at all…. don't let fear of failure stop you from trying, what would you do if you weren't afraid?  Find your passion, the thing that makes your body, mind and heart hum." She spoke of how damaging it was for one's soul to live a small life when your being is crying out to experience a greater opportunity. She talked about connecting with the special thing that drives you and the more one connects with it, one is motivated to do more and it can produce miracles and change the world one day or one thing at a time.  She reminded those present to always help others who are on their journeys, "we stand on the shoulders of giants."
Nazir Afzal told the 130 guests present that to make a difference you have to act differently, push yourself and step outside your comfort zone and spoke of the importance of events such as WE as places which bring people together for mutual support.  He spoke of the ground-breaking work he had lead and contributed on – by understanding and taking a genuine interest in issues that were not being given the time they needed, he has been instrumental in making forced marriage and stalking into criminal offences.  He praised the everyday heroes working in NGOs and charitable organisations who are making changes every day to people's lives. Differences can be made in small or big way if one opens ones mind, listens to concerns, takes time to understand and hears what is needed.  He encouraged those to remember that all present  have a talent or spark that they can share more widely and it can benefit society immensely.
Heeral Shah, from Barclays Embrace Network addressed the guests, spoke of the shared belief of Women Empowered and the Embrace Network in championing diversity and inclusion with a strong leadership and role models.  Heeral spoke of the impact the speakers had had on her and those present and spoke of her pride in enabling the event to take place.
Stall holders exhibiting on the night were Pavan Henna, Designer Studio, Chin's Kitchen and Savanna Couture.
Women Empowered is due to hold its next event in May. For more details please subscribe to the newsletter via www.womenempowered.co.uk
WE is a social initiative which aims to empower women (and men) to make the best of their individual skills and talents and help them to achieve whatever personal and professional goals they have.  We work at a grass roots level, trying to ensure we are easily accessible to all who would like to reach us.
WE is open to all, even men.  Men are 50% of the population and need to be a part of the discussion so that we can effect change, to our own worlds and the larger one. WE always have a male speaker for a balanced discussion.
WE is open to all
WE aims to:
ENGAGE more into discussion;
ENCOURAGE fresh and varied thinking and perspective;
EMPOWER those present to find the inner confidence to take the next step;
ENABLE and support them through the journey by putting them in touch with organisations that can nurture their ideas and mentors who can assist in achieving those goals and to create a powerful and exciting network for collaboration, support and friendship.
Photos from Left to Right
1. Reena Ranger welcoming guests to the event
2. Cllr Mimi Harker OBE  addressing the guests
3. Ahlya Fateh addressing the guests
4. Nazir Afzal addressing the guests
5. Q&A Session
6. Q&A Session
7. Guests at the event
8. (Back row L to R) WE team members Dee, Sunita, Dhrupti, Priti, Reena, Barclays APF Heeral Shah, Jagdeep Rai
(Front row L to R) Nazir Afzal OBE, Cllr. Mimi Harker OBE, Ahlya Rafique Fateh
Disclaimer: Speakers may change without prior notice. All partners at the event are individual third parties and personal due diligence should be done.
Women Empowered shall not take any responsibilities for any transactions done with any third party organisation.
Please Note: Photos and video recordings may be taken at this event and used on social media sites. Anyone that do not want to be included please let the organisers know.