Time: Doors open at 6.30pm for a 7.45pm start
Venue: Baker Street, London
Date: Wednesday 26th September 2018
Our speakers share their stories and journey's how they have worked together with their friends and networks to create opportunity, fulfill dreams and undertake social and charitable good.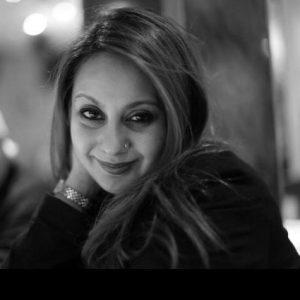 Zamiha Desai started a Facebook Group, RecommendAsian, 2 years ago.  It had 219 members and it was just to share a saree pleating gadget that was recommended to her.  Today, RecommendAsian and ProfessionalAsian have 120,000 members between them, and sharing knowledge, tips, resources and advice has had a huge impact on so many people.
Zamiha has connected people all over the UK and abroad – connecting global as well as local has been such a powerful way of keeping connected with a beautiful and rich Asian heritage in a Western world, through the power of community, of sharing and of so many amazing members that interact to enable a thriving and supportive on line place.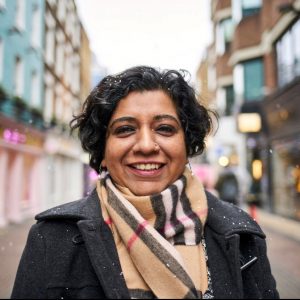 Asma Khan moved to Cambridge in 1991 with her husband. She comes from a royal background – Rajput on her father's side and Bengali on her mother's. After training as a lawyer Asma registered for a food business, which began life as a supper club in her home in Kensington. In 2015, she opened a pop-up in Soho to much acclaim, and Darjeeling Express the restaurant opened its doors in June 2017, perfectly positioned in Kingly Court in central London. She was been voted 'Female Entrepreneur of the Year' at the Asian Restaurant Awards and 'Entrepreneur of the Year' in the Asian Women of the Year Awards. Asma's debut cookbook "Asma's Indian Kitchen" published by Pavilion is due to be published on 4th Oct 2018.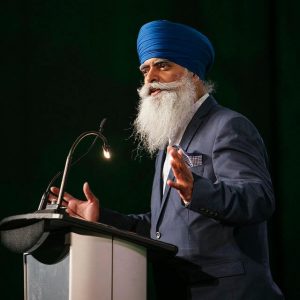 Ravi Singh is the CEO and Founder of Khalsa Aid, an international humanitarian aid organisation based in Slough, UK. Ravi's passion to serve, and vision to create positive change, has seen him lead from the frontline in areas of humanitarian crisis for over 18 years.
Whether it has been in response to man-made conflicts or natural disasters, Ravi has launched aid missions in over 25 countries and helped establish networks with local NGO groups to provide immediate short-term and long-term sustainable relief.
Running Order for the event:
6.30pm – 7.45pm Doors Open for networking
7.00pm – Canapés Served
7.40pm – Welcome address by Reena Ranger
7.50pm – Address by Zamiha Desai
8.00pm – Address by – Asma Khan
8.10pm – Address by Ravi Singh
8.30pm – Q&A session with panel of speakers
8.50pm – Sponsors address
8.55pm – Closing address and vote of thanks
9pm -10pm – Dinner and Networking
The power of connectivity was the theme for the latest Women Empowered event. Speakers Asma Khan – founder of restaurant Darjeeling Express and Cookbook author, Zamiha Desai – founder of Facebook groups RecommendAsian and ProfessionalAsian and Ravi Singh – CEO and Founder of Khalsa Aid, shared their experiences on how they worked with friends and networks to create opportunity, fulfil dreams and undertaken social and charitable good.

Asma Khan was the first to share her wisdom and spoke of how she swapped her lawyer life to pursue a passion for cooking.  She began with a pop-up restaurant in her home cooking for friends. Through this she met new people and one such person gave her the opportunity to secure some space in central London to open a restaurant, a dream come true. She went on to write her own cookbook and  is the first British person to appear on the hit Netflix show, Chef's Table.


She spoke of her own story and those of the generations before who cooked amazing food but were always in the background and the irony of restaurants closing due to an inability to find good chefs.  Her restaurant is run by women, none formally trained, all who innately know how to cook. She met these women at the school gates or through her friends' circles, many are in their 50s and 60s and and many were housewives or former nannies. These new chefs have taken ownership of their skills and seen a new value to what they can do. Her candid story spoke of having to overcome disappointment and hurdles. Now when she sees a hurdle she visualises herself flying above it and never hitting it.


Zamiha Desai, founder of Facebook group RecommendAsian, spoke of accidently founding the group when she wanted to share her delight at finding what she thought was the perfect saree pleater. Inspired, she wanted to connect people to amazing finds that would make life easier.  Little did she know that that small action of connection and sharing would lead to helping a man in far-away Bali amongst so many others.
The RecommendAsian group grew linking over 60,000 people, all sharing and connecting. Users added their friends and recommended their "finds". She thanked her users for sharing so willingly, honestly and openly. One user recommended a taxi driver who had been an excellent guide whilst on holiday in Bali. He was employed by a company and his earnings could have been better. That one user recommendation led to many members of the group contacting him on their holiday. This has enabled him to be his own boss and in control of his earnings. A saree pleating device in the UK has positively impacted the life of a man half way around the world.  Even the small gestures of sharing and bringing people together can have an impact beyond imagination. Zamiha emphasized that he real barrier to connectivity is the fear of being judged. She urged others to remember to respect each other and help make conversations safe, keeping them open and honest and with that allow more and more people to connect.

Ravi Singh is CEO and Founder of Khalsa Aid, an international humanitarian aid organisation based in Slough. He had led it for 18 years running aid missions in response to man-made and natural conflicts. After helping the people of Somerset after heavy rains caused flooding, he took the new friends he made to Nepal to help after a devastating earthquake. He spoke passionately about the pojectin Iraq that helps Yazidi women who have escaped from ISIS. He spoke about connectivity going beyond social media and asked, "now that you are aware, what will you do?".  He spoke proudly of "Project Dignity", a new project that allows those women who have been rescued, escaped or been purchased back from ISIS and giving them the simple dignity of taking them to a large shop in the city and allowing them the choice to pick dresses.  After several years of captivity, that simple choice brings back a simple but vital part of their dignity.

He offered his support and connectivity to anyone present who was doing good work and urged people to speak up, men and women, and challenge unacceptable "social norms". He reminded the men at the event to challenge male chauvinism, control and aggression and not to be silent, as this disempowers women and men must no longer be silent.  He urged the women present to think about joining Khalsa Aid on a humanitarian mission as the women who need help want to speak to other women and share their stories. At 29 years old, he founded Khalsa Aid. He was asked if he wanted to change the world and he said "I wanted to change the world and we did!"

Women Empowered, a grass roots, social initiative that aims to inspire and help women make the best of their individual talents and skills by connecting with successful and inspirational women and to help them make the most of their abilities and help them gain new opportunities through a variety of events. The group is championed and supported by prominent women and men from all walks of life, from politics to media, from finance to music. It also consists of a charitable arm based on the donation of time an service and an online blog. WE is open to all and requires no membership, to join us, please visit :www.womenempowered.co.uk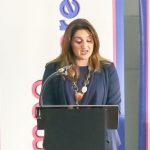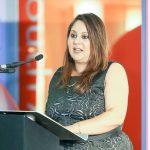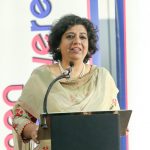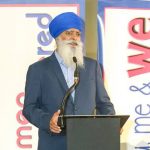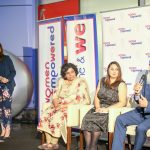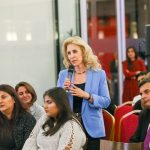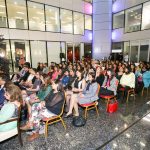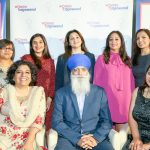 Photos from Left to Right
1. Reena Ranger welcoming guests to the event
2. Zamiha Desai addressing the guests
3. Asma Khan addressing the guests
4. Ravi Singh addressing the guests
5. Q&A Session
6. Q&A Session
7. Guests at the event
8. (Back row L to R) WE team members Dee, Dhrupti, Reena, Priti, Kajal
(Front row L to R) Asma Khan, Ravi Singh, Zamiha Desai
Disclaimer: Speakers may change without prior notice. All partners at the event are individual third parties and personal due diligence should be done.
Women Empowered shall not take any responsibilities for any transactions done with any third party organisation.
Please Note: Photos and video recordings may be taken at this event and used on social media sites. Anyone that do not want to be included please let the organisers know.