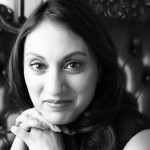 I recently attended two book launches which discussed the challenges facing young girls growing up today. They raised issues such as the pressures of our growing A* academic culture, how gender stereotyping is sadly still prevalent and the damaging messages we sometimes unintentionally send to our young daughters in a society obsessed with beauty, age and weight.
This subject has resonated with many of you. We have had so many fantastic contributions that we will now be running 'What should we tell our daughters?' over both February and March. We would like to thank everyone who has taken the time to contribute and hope that you enjoy reading their insightful views.
We are taking additional GRIT submissions for What should we tell our daughters? Part 2 now so please send us your article to grit@womenempowered.co.uk before 20th February, 2015.
We look forward to hearing from you.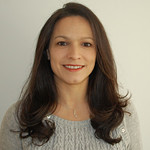 When I grow up I want to be… – By Lisa Rajan, Children's Author, Local Councillor and Research Manager
"But ladies can't be mechanics!" retorted my three-year-old son, several years ago. It was funny, but I was slightly horrified – I thought I'd brought him up in a non-sexist-equal-opportunities way, but apparently not. He went on to list a whole load of other jobs that apparently "ladies can't do". I tried to work out why he would think this: by this early age, the main 'input' into his thinking were his parents, what other adults had told him and stories that had been read to him.
Children's books, and indeed toys, seem to be very segregated along gender lines – some overtly but many do it in a subliminal way. If you take a book series with a lead male character, like Bob the Builder, Fireman Sam and Thomas the Tank Engine, they will usually have the lead character doing a job, solving problems or saving the day. However female leads, like Dora the Explorer or the Disney Princesses, tend to be more passive, less heroic and goal-orientated. Do these books give children the subconscious message that boys are practical and capable, and girls are more interested in friendships and playing? And do these impressions of what girls and boys can do shape their future aspirations? Even animal characters tend to be mostly male, which may further add to children's perceptions of the relative roles, dominance and capabilities of gender jurisdictions.
Fewer than 20% of science, engineering and technology professionals are women, whereas 82% of workers in 'caring, leisure and administrative services' are women. In the mid-1800s Ada Lovelace was considered to have written the world's first computer program, and yet in 2014, fewer than 1% of computer science graduates were women. Government ministers Elizabeth Truss and Jo Swinson have recently highlighted that gender-specific toys risk turning girls off science and maths, but perhaps early books also play a role in defining children's interests, ambitions and understanding of their place in the world too. Whenever I meet little girls, I ask them what they want to be when they grow up. So far, none have mentioned anything remotely sciency, technical or financial.
We want the best for our daughters, as well as our sons, but we have to work harder to give girls a balanced view of their opportunities when fewer role models and behavioural exemplars exist in their early reading experiences.
The Let Books Be Books campaign, which is backed by Waterstones, the children's laureate Malorie Blackman, and the publishers Parragon and Usborne, among others, seeks to put pressure on publishers and retailers not to market books as 'for girls' or 'for boys'. It is starting to change behaviours, but it has a long way to go, and it feels that girls are suffering more than boys in the meantime.
The American author Beverly Cleary said "If you don't see the book you want on the shelf, write it". So I did. Determined to play my part in redressing the balance and widening the choice of reading matter for our daughters, I wrote a series of picture books with a strong female lead character, Tara Binns. When Tara runs round an old costume box in an attic she is transported into a costume she wouldn't normally choose, and a challenging adventure to go with it. She solves problems, learns new skills, makes discoveries and invents things. In the first book, which has just been published, she becomes a pilot, and there are adventures as an engineer, a doctor, a firefighter and an astronaut which are all due for publication later this year. I deliberately chose male-dominated jobs so that both girls, and boys, could see a strong female character capably doing them, and enjoying them too.
My son (now 10) will never again say that "girls can't be mechanics", but, more importantly, neither will my two-year-old daughter. And I hope, as the books become popular and plant big ideas in little minds, some of the subliminal barriers that gender stereotyping has unwittingly created will start to be lifted.
Lisa graduated in biotechnology and used to be a healthcare copywriter, but what she actually wanted to be when she was growing up was a long-distance lorry driver or a Thunderbird pilot.
'Tara Binns – Eagle-Eyed Pilot' is available from Amazon now, and 'Tara Binns – Crash Test Genius" is available to pre-order (due for publication in May 2015). Follow her on Twitter @tarabinns or visit www.tarabinns.com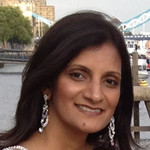 What should I tell my daughters? – By Monica Matharu-Walia, Mother & Solicitor (non-practising)
As a mother of two young daughters, I find myself asking this question time and time again. I don't remember my childhood being as difficult, complicated or as stressful as it is for girls today. I don't remember being worried about what shape or size I was, whether I was eating too much or dealing with issues like anorexia or depression during my teenage years. I remember a happy, carefree childhood where I was just allowed to be me.
Our society has changed so much since we were little girls. Today there seems to be a constant pressure of school work, endless activities, ongoing assessments and the pressure to not only to do your best but to achieve your best in every part of your life too. What is worse is that it all starts so young.
As if that wasn't enough our girls also face constant pressure from their peers, television and social media, which surround them every day telling them what's cool and what isn't, what they should look like and how they should dress. The messages our girls seem to be get is that in order to be successful they must be not only be high academic achievers and have the right career but also have perfect looks and be the 'right' body size too. Have we as a society set the bench so high that our daughters may now struggle to reach the top? Will our daughters be able to cope with the daily pressures of being a professional woman who wants it all, while balancing a family life and above all be happy and content?
Last year my 8 year old daughter came home and told me with delight that she would be doing her annual Christmas gymnastics performance to the song 'All About That Base' by Meghan Trainor. Having trained for several weeks and listened to the lyrics of the song for hours, my daughter knew all the words and actions by heart. As a mother listening to her sing I could not help but feel sad but also somewhat reassured. Whilst she was innocently enjoying the rhythm and catchy tune, I felt sad because the lyrics talked about body size and image. However I was reassured because for a change a pop song was promoting a positive body image of self-acceptance and embracing inner beauty. The lyrics also criticised the fashion industry's size zero culture and magazines for their use of photoshop. When I asked my daughter, "Do you know what this song is about"? she replied, "Of course, it's about really skinny people and how it's ok to be fat". I was shocked by her response.
Her immediate next question was "Mummy, what is photoshop"? I suppose I should be grateful that because of this song my young daughter now understands that most of what she sees, or will eventually see, in magazines is not real and that the pictures have been edited to make people look flawless and perfect. What is disappointing is the fact that we as a society, who have watched the catwalks exploit and parade the size zero culture, now have to listen to such songs which we hope will comfort our daughters and reassure them that it's OK not to be thin.
As parents we want the best for our children but at what cost? No parent wants to see their child struggle in life, feel distress or suffer any form of physical or psychological illness because they are trying to be someone they simply are not. We just want healthy, confident, successful and happy girls.
So what should we tell our daughters? Well, I for one will continue to tell both my young daughters how amazing, talented and wonderful they are in their own individual way, every day.
Encourage crazy dreams – By Shree Viswadia, Strategic Marketing Consultant and Business Networker
I believe we all have a responsibility to help guide young girls and teenagers to achieve whatever they dream in life. Young girls today face a complex and broad barrage of external pressures but one of the most important things we can all do is to encourage every girl to have a self-belief that she can achieve whatever she dreams.
Sometimes young people's dreams are often met with conditions such as "Yes, do that…but after you've finished university" or "That sounds great…but maybe when you are older". I believe dreams should have no conditions attached. A girl who has a vision for what she wants her life to be (or not to be) will give her a purpose to strive for. And having self-belief will enable her to achieve it.
Dreams are realised through our goals and these naturally change over time. As we become older our dreams may mature and align with society's expectations of what is considered 'normal'. This often means our goals become smaller, which in turn places limitations on our own self-belief and consequently very few of us go on to fully achieve our dreams.
As far as careers go, some girls may choose a traditional path such as a teacher, doctor or lawyer. However others may dream of being a world famous actress, Olympian, or Prime Minister. When it comes to wealth, some will aspire to simply "have money." Others may seek to have a business empire or the ability to retire by the age of 40, or even younger!
No matter what role we play in a young girl's life, as a mother, grandmother, aunt, sister or friend, we all influence the young girls around us. We are their source of inspiration and motivation. We may think that some dreams are unrealistic but this may just be a consequence of us limiting our own dreams over time. We should believe in our young girls dreams and encourage them to believe in themselves, with no 'buts' or 'maybes' attached.
A girl who develops a really strong vision and goal for her life, when faced with pressures and prejudices such as sexism, ageism, lookism or any other type of 'ism' will be able to overcome these and use her energy in a more productive way. So encourage our young girls to dream big, crazy dreams. They are our future and their hopes and dreams matter.
How you can add FUEL to young girl's dreams:
F – Fire!
Let our girls have fire in their dreams and believe that no dream is too big.
U – Unshakeable belief
Let them know it's not OK for other people to steal their dreams or to belittle them.
E – Environment
Teach them to surround themselves with the right people who will help their dreams come true.
L – Leverage
No dream can come true without leveraging other people's help and support. I would like to thank my niece Jhanvi for her thoughts when writing this article. May her dreams always be as big as her personality!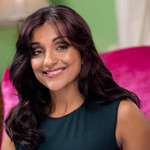 Let young girls be young girls – By Geeta Sidhu-Robb, CEO & Founder, Nosh Detox Delivery Ltd.
I find it really disturbing that my daughters' are very concerned with their weight from such a young age. Puberty is the age where young girls are meant to be able to enjoy being young, non-sexual children who become teenagers.
In today's society we have skipped many of those steps to make them into mini-adults to whom we send highly sexualised images and messages in a completely inappropriate manner.
Young girls are physically meant to be plump. It's part of Mother Nature's requirement for being fertile in later life. Recent scientific research has shown that women with more fat on their hips and thighs actually have more intelligent children because that fat is used to develop their brains.1
However this is not something my poor half-Punjabi, half-Swedish child wants to hear. All she knows is thanks to her gene pool she is curved, and curvy is bad! And at 14 I'm not even right when I say she's a child because in our society at the moment, we have 14 year olds who are actually sexually active. Which is horrific.
And what's worse is that our girls are growing up in a culture where a woman's role is changing so much. My mothers' generation were brought up to marry and work for pleasure. They were also brought up as homemakers. However my generation work from necessity. Since more and more women are now turning into breadwinners who work out of duty, not pleasure, it is even more important for our daughters to have a strong sense of who they are as women.
The outside media is so offensive and one-sided that I think it makes the home environment that we offer our girls more important than ever before. I believe that to give our daughters' a chance of success we will need to teach them the following 3 rules:
1. Honour your choices
Do things with your life that you enjoy and make you feel good about yourself.
2. Learn to say No
This is rarely, if ever, taught to women. Young girls are made to feel bad if they complain or refuse. It's a skill we need to teach our daughters young and early.
3. Love and respect yourself for who you are
We are all individuals. This includes your looks, shape and thoughts.
Reference: 1. http://i100.independent.co.uk/article/women-with-big-bums-and-thighs-give-birth-to-more-intelligent-children–xytgk1QGox
10 things to teach our daughters – By Meenal Sachdev, Co-Founder of Connect India, Director of Shiva Foundation and Vice Chairman of Hertsmere Conservative Association
Dedicated to my beautiful nieces and all of the wonderful young women in my life
Always remember you are powerful beyond belief. You are no lesser than a man, but we have been made differently for a reason so realise, understand and appreciate those differences and play to your strengths.
1. Laugh and Jump
Learn to define success yourself. The race is long and you will win some and you will lose some but ultimately the race is against yourself. Simply persevere, aim high, challenge yourself and do your absolute best.
2. Don't read beauty magazines
You will have bad hair days, days when you don't want to wear make-up and days when you'll binge. But you will also have lots of good, fun days when you feel beautiful too. You're not unique in feeling this. Models, actresses and even your best friend will have those same days. Always believe in the power of your beauty – inside and out. Don't let anyone define that for you.
3. Be grateful
Dream but have your feet on the ground. Don't make dreams your master as Kipling said but sometimes, let yourself float away and allow yourself to see the magic. If your prayers are not answered don't stop hoping. In time, you will reach your dreams.
4. Enjoy the view
Surround yourself with good and positive people. Everyone enjoys a little gossip but when you find girlfriends who use their emotional intelligence in a positive way, hold onto them! Seek and find inspiration from the glitter of holidays as well those dreary winter days. Everything will teach you something.
5. Feed your soul
Gandhi put it perfectly-"The best way to find yourself is to lose yourself in the service of others." Understand that service can be anything from charity and volunteering to simply listening and being kind. And let the service be without expectation. Pure and good actions, thoughts and words will fill your life with happiness.
6. Have some tea
One of the most esteemed women in the world, Eleanor Roosevelt said, 'A woman is like a tea bag; you never know how strong it is until it's in hot water.' Love tenderly and whole-heartedly because life is love. Love yourself. Don't hurt others. But don't let others hurt you without your consent. If your heart breaks it will mend again. Don't become bitter. Just pick yourself up each time and be stronger, better, wiser and even more fun!
7. It's not all about the 'carat'
Marry wisely, if you want to get married at all. Marriage is about trust, loyalty and compromise, but most importantly about giving yourself. Marry someone who looks after their parents and family, as then you will know their goodness is there to last.
8. Plant seeds
Treat your parents with respect. When you become a mother you will realise and understand the battles they were fighting when you were young, without you even noticing. Arm your children love and security as they will be the best tools to weather any storm. Teach your daughters about safety, and teach your sons how to treat women with respect.
9. Dance
The world is a stage and you will have many roles to play. Life will always be a balancing act. You will be a daughter and then may become a daughter-in-law; the shock of motherhood may throw you for a while and then you may have to balance a career while raising children. The combinations are endless! Just find a balance that works for you. There is no right way or wrong way and don't let others dictate otherwise.
10. Have faith
Play your part in the world as a daughter, a woman, an individual, and as a human being to shape it for the better. Be fearless as you make your choices but also respectful of those around you. As you grow you will realise that changing yourself is more important than changing the world. And as you change yourself, things around you will automatically start changing.
So to every daughter of the world, I would say that the power lies within. Finding it is a long journey in itself but when you do find it, you will realise why being a woman is so special.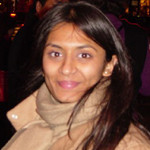 Find the right balance – By Shreya Parekh, CEO & Founder, Lynkto
I write this as I sit watching my eldest daughter at her after school class…I have 2 young daughters and worry that they might burn out before they reach 18.
I have always strived to make sure my daughters achieve the best they can, to encourage them to be strong and independent, but to also understand that it's OK to feel vulnerable too. I would like my daughters to embrace feminism. After all, it's not a dirty word, although some people still fear saying it – and I must admit I sometimes do too. However let's be clear. According to the Oxford Dictionary Feminism, simply means "The advocacy of women's rights on the ground of the equality of the sexes." Surely this is something every woman from around the world needs to embrace, in the hope that our daughters will too?
When I was growing up it was challenging trying to explain to my Indian/African born parents that I, as a young girl, also wanted to be independent, free and able to do anything, just like the boys around me. I was lucky to have wonderful and fairly liberal parents, who did push me in this direction. But one thing I did not have was the pressure to make sure I get A* grades in everything I did or to have to attend every after school club or activity going. Perhaps because my parents were busy working and affordability was an issue, I was pretty much left to it. However, through a bit of trial and error, I turned out just fine.
What I did learn from my mother was her incredible drive and work ethic; and this is something I want my daughters to learn from me. It's not about my daughters seeing that I achieved A* grades academically (which I definitely didn't) but about them seeing me as a strong, independent and driven woman in whatever I do.
I now work for myself from home. When my daughters passed a comment saying "Daddy works… you just work from home" it concerned me. Where have they got that impression? Do our children believe that working hard only means working in the corporate world or wearing a suit? This has made me realise that we all need to instil and educate our daughters, and sons, that women who "work from home" are also "working"! Also those women who choose to stay home to look after their children and take care of the home work incredibly hard too. I guess I need to sit down and have a chat with my daughters…..
Society today is full of pressures. The pressures are everywhere from TV, newspapers, magazines and social media to achieve our best and to look our best too. Pressure from society, friends or family may result in some girls growing up and doing things they didn't really want to do. These young women may end up in a job or a role that they never really wanted, and may later realise that they haven't "lived their life" – and then what? Will they blame us? Who will we blame…society?
I strongly feel that we have a responsibility to educate our daughters and make them aware that it is not what you look like or your status in society, but having a confidence in who you are and what you do. Because if they can find the right balance, this is what I feel will make them stand out.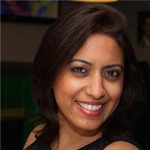 From a Mother to a Daughter – By Sheetal Sachdev, Founder of Treniq
I come from a big, traditional Indian family and grew up with a sense of security and a cocoon of love around me. My family mollycoddled me and protected me at school and my mother is still my best friend and confidante today. Although I moved to a different country when I married, I still share the same strong bond with my Mother today. She taught me to value myself, told me that I am uncommonly beautiful and that I was the most precious part of her life.
I am now a godmother to two beautiful angels – aged eleven and seven. From tea parties and shopping to heart-to-heart sessions over warm cocoa, I share everything with my nieces. But I'd be lying if I said it was easy. From a very young age, our girls are targeted with messed-up media messages and exposed to all manners of temptations (think "Thin is beautiful" and "If you want to be happy, you need these shoes!")
As a mother we can shape what are daughters become. There are innumerable life lessons that I'd like to give to my children. However I have some specific advice for my daughters:
1. Think for yourself
To live a fulfilling life, you have to think independently. This is how you can create a world of limitless possibilities. Question everything! It is OK to listen to "conventional wisdom" and advice that people give you, but YOU have to ultimately form your own opinions. This is what the best LEADERS do, whether they are leading a company, a family, or their own lives.
2. Always maintain your integrity
In the end, you will only have two things: your memories and your name; your name and reputation will always follow you. If you keep your promises and do the right thing, you will sleep soundly at night and have peace of mind.
3. Find your passion and give 100%
Life is short. So make the most of it by doing what you love and giving it your all. It's not easy to find your passion. Maybe the search will be painful and long, but you will find it at some point. And the feeling of satisfaction, knowing you have given 100% will bring tremendous contentment.
In the words of Ita Ford : "I hope you come to find that which gives life a deep meaning for you. Something worth living for — maybe even worth dying for, something that energizes you, enthuses you, enables you to keep moving ahead. I can't tell you what it might be — that's for you to find, to choose, to love. I can just encourage you to start looking and support you in the search."