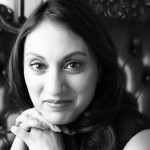 Research shows a network of strong relationships can contribute to a longer, healthier and happier life. And it seems that you agree. We would like to thank all of this month's contributors for sharing their views on relationships ranging from searching for love to the importance of female friendship, family and even the relationship you have with yourself.
Next month we want to discuss the important topic of health. Have you been diagnosed with a medical condition which has changed your outlook on life? Do you or a loved one have experience of living with cancer, diabetes or heart disease? Are you a medical professional who can help raise awareness of a particular health issue? Please send your Health Matters article (400-700 words) to grit@womenempowered.co.uk before 20th May, 2015.
We look forward to hearing from you.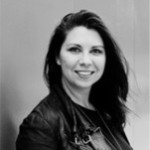 Looking for Love? Love Yourself First! – By Iulia Calota, Author of the 'The Love Project'
As someone who wrote a book called 'The Love Project', I feel inclined to suggest that romantic love is the most important relationship in life. However, this would not reflect the truth behind the story of how I found love entirely.
I was a 33 year old project manager who had been single for 6 years when I decided it was time that I did something about it. Since I had failed in my past approaches to finding love, I thought it wouldn't be far-fetched to translate my project management principles into the world of dating. Project management was something I was good at and something I was comfortable with. So, I put together a plan to 'project manage' love into my life. I wrote down my objective, listed deliverables, individual tasks and set myself a deadline of a year.
As I was doing this, I realised that I needed to create an alternative set of objectives about myself too. The version of myself who was putting together this plan to achieve love perhaps wanted love in order to validate herself and her worth. I had to have aspirations for myself too. So I took out another piece of paper and wrote down who I wanted to become.
I want to become more confident, happy in my own skin, more assertive, stronger, bolder, and unafraid to pursue my dreams.
And so 'The Love Project' unfolded. And some very interesting things happened.
Nine months later, I still hadn't found love, but I was a changed women. I had transformed into a confident person who found the strength to leave a career I didn't love and to embrace my passion for writing fully. Thinking my strategy and reasoning behind my project had failed, I decided to abandon 'The Love Project.' I made the decisions to let go of the control, embrace who I was and accept that my life was beautiful, with or without a man in it. And when I did that, something incredible happened.
Two weeks later, I met someone. And now we are engaged to be married.
As I look back, I realise that I met him at the right time, when I was whole and already happy. I didn't need him to make me feel better about myself because I was already there. I had the most important ingredient I needed: I had self-love and a very good relationship with myself! He just joined me on my life's adventure; two people looking in the same direction.
So at the end of my journey of looking for love, I realised that my answers had been inside me all along. Just like the character in Paulo Coelho's 'The Alchemist' I had to go on a journey of self-discovery first in order to find out. I had to be willing, to question, to dig deep, to look my own fears in the eye, and to let myself be guided along the way.
That's not to say that I diminish the importance of all of the other relationships in my life. There were many instances when my mother and close friends advised me and supported me on my journey of looking for love. Letting myself be helped was part of my self-love therapy. For the first time in my life I didn't pretend that I knew better. I listened. And I kept listening, every step of the way because I believed that one day, it will all be okay.
The Love Project is in the final stages of editing and will be published later this year. Claim your FREE sample chapters by signing-up on www.iuliacalota.com. Follow Iulia on social media for daily tips, inspiration and advice on how to manage your own Love Project: Facebook: Iulia Calota, Twitter: @IuliaCalota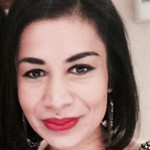 The Importance of Best Friends – By Dr Shruti Chopra, Dental Surgeon
Married? Single? Unemployed? On top of the world? No matter what your status, friendships are one of the most important constants in any person's life. Today's society increasingly tells us that young, professional women should be more independent, increasingly self-reliant and self-confident. Whilst I agree with this to a certain extent, I also firmly believe that we can all flourish to an even greater degree and fully reach our potential with the support of true and loyal friends. Happiness is crucial in our overall well-being and surrounding ourselves with people who make positive contributions to our lives is important for our spiritual, emotional and mental wellbeing.
The philosopher Aristotle said, "In poverty and other misfortunes of life, true friends are a sure refuge. They keep the young out of mischief; they comfort and aid the old in their weakness, and they incite those in the prime of life to noble deeds." Friendships are vital for wellbeing, but they take time to develop and can't be artificially created. For me, Muhammad Ali summarised friendship perfectly. "Friendship is the hardest thing in the world to explain. It's not something you learn in school. But if you haven't learned the meaning of friendship, you really haven't learned anything." Stieg Larsson takes it one step further and says "Friendship is probably the most common form of love." I totally agree with this statement. I love my true friends irrevocably and wholly.
In my opinion what makes my friends worthy of being called my friends?
My friends are committed to my happiness, without exception, and this is reciprocated from me back to them. True friends, not only support each other but also have the courage and ability to tell each other things that we may not want to hear. Even if this may adversely affect our friendship, we are willing to take a risk if we believe something is genuinely in the other person's best interest.
We always respect and value each other's ethics and principles and would never ask each other to compromise in the name of friendship, even if we do not wholly agree with them. Our friendship does not have place for judgement – we do not consciously or subconsciously judge each other negatively; instead we try to positively influence each other. We genuinely like to see each other succeed and flourish and a true friend definitely inspires you to live up to your best potential and to not give up at the first hurdle.
Of course, we may have friends who fit all of these criteria but still don't quite feel like 'best friends'. A 'Best Friend' seems to have an extra factor; an attraction which draws similar people and cements them together irrevocably, and often immediately, often for no singular reason either person can identify. When you find these people, they're like priceless gems. It's like finding a home; a unique mix of concern, compassion, honesty, understanding and support that all work harmoniously to build a lifelong friendship. Psychologists say that "If a friendship lasts longer than seven years, it will last a lifetime." I feel truly blessed to have a number of friends who I consider to be my 'Best Friends' – in fact more than any woman could ever ask for. And I firmly believe that we all add value to each other's lives.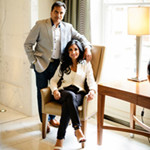 The Relationship that Transforms You – By Avnish and Anita Goyal, Directors of Hemraj Goyal Foundation
We believe that the most important relationship that transforms you is the one with your partner. This partnership can light up every part of your life and where you can experience the depths of intimacy. Whether you're single or committed, these are our top 5 tips on creating the ultimate relationship:
1. The power of integrity- This is the foundation of any great relationship. To create lasting trust and confidence, always speak your truth and behave in a way that is in harmony with your personal values. Trust comes from being reliable, loyal, and honest and by honouring your commitments. When honesty is your way of being, you are being true to yourself and you will be free to love. Any time you lose trust or commitment, you drift closer to behaviours of criticism and rejection. Always stay connected through integrity and love!
2. Nourish each other's soul and be kind- Discover your partner's primary love language to help you connect with your loved one with intimacy and fulfilment. Fill your partner's 'love bucket' by expressing love in their love language (acts of service, physical touch, quality time, words of affirmation or receiving gifts). Be committed to personal development and grow together. Be kind in all that you do and make it a habit. Kindness feels good in both the giving and the receiving. It's the essential food for love between the two of you.
3. Be vibrant and attractive- Imagine what it was like when you first met, you fancied each other like crazy and you made an effort to look great and did exciting things together. Don't stop doing this. Never get lazy in love and never take each other for granted. Have regular date nights and let your man carry you away in his masculine presence allowing your femininity to flow. Take care of your skin, your clothes, your health, your body and mind- taking care of yourself feels good. Make time to be together, collecting experiences rather than possessions. Energise each other!
4. Be emotionally open and vulnerable- The deepest fear of humans is that we are afraid to reveal ourselves. Sharing your dreams will often reveal your hopes, fantasies and deepest desires. Be vulnerable by sharing your faults, fears and failures (often the wounds from the past).Let down your guard and remove the mask. Knowing your feelings and sharing your feelings is an integral part of being emotionally open. This leads to emotional generosity where you are free to love without restrictions, you are self-expressed and you create the ability to acknowledge, appreciate and express gratitude.
5. Solve conflict and forgive quickly- Conflict is a natural part of life. Managed intelligently it allows synergistic solutions to the issue. Start with recognizing conflict as it arises, followed by optimising your way to communicate and become more attentive. Be responsible for your emotions and don't blame your partner. Control your anger or frustration by defusing the surge of negativity and regain your inner calm. Manage the way you communicate consistently by expressing how you feel from the heart and remember to use phrases that avoid blame. By listening you'll get to know how your partner feels by allowing them to respectfully and lovingly express their feelings without judgement. Don't allow differing opinions to become a roadblock in the quest for intimacy. Use love, respect and kindness to always move forward. Forgive quickly if you want passion, love and connection. Remember, holding onto resentment is like drinking poison and expecting the other person to die! Remember to forgive yourself too!
There should be no limits to what you are willing to explore to become the best version of yourself. A whole new world opens up when your relationship is full of potential and happiness that weaves through not only your togetherness but also enriches your individual lives. Relationships are about teamwork where it's about giving and receiving, always working together to achieve a common goal.
Avnish and Anita Goyal are passionate about making a difference. We run seminars for singles and couples on how to create your ultimate relationship. Our next couple's seminar is being held in London on 4th & 5th July 2015. Visit www.avnishandanita.com for more information. Look out for the popular seminar, "Finding your ultimate partner" for singles in October.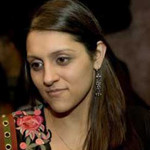 Relationships don't come with an instruction manual – By Dr Neha Tanna, Associate Director MSD UK and General Practitioner
It is often said that the relationships we have with the people around us define who we become. When the word 'relationship' is referred to we immediately think of family, friends and work colleagues. These three broad relationship categories can have a great influence over us, or we may influence them. However, for me there is one additional important influential relationship – the one I have with myself. How well do I really understand myself? What do I want from life and how can I help to nourish the existing relationships I already have?
Family
They see us through the good and the bad; at our best, and at our worst. However, we often take this sacred relationship for granted. I was recently asked 'Why do we show our worst characteristics at home?' Why are we the best we can be (most of the time!) when we are out with friends, or at work, but at home our family doesn't always get to see this?
If an aspect of a family relationship is off balance, or we have had an argument with someone we care about our whole day feels wrong. Even if you are not with that person you feel restless inside. Have you ever noticed your 'off mood' filtering into the other aspects of your life? I find family relationships often have a much bigger impact on us than we realise. An argument with a spouse, sibling or parent can ruin a whole day, week or month.
I believe healthy family relationships form the foundation of a strong support network that we need for other areas of our life. My family has played a huge part in helping me to understand and learn what I want for myself. Sharing my weaknesses and strengths with someone and learning theirs has really strengthened the foundations of our relationship and helped me to answer questions about myself which I was previously looking for externally.
Friends
These are the people who often become the family we would choose for ourselves – the people we talk to about everything. Whether it is a group of girlfriends, school or university friends these are the people we have chosen to keep in our life that can influence our choices and beliefs. I have also found that through knowing myself better and having a healthy relationship with oneself, I form healthier, longer-lasting friendships with the people that I can really connect and share with, be it hobbies or holidays. They have become the people I know if I call in the middle of the night they will be there.
Work Colleagues
We spend the majority of our waking hours with people at work and they do become a second family. Have you noticed that we only ever give the best of ourselves at work? Why is that? When I realized this it really bothered me. If I am the same person then everyone in my life should see the best of me – there shouldn't be a difference. It is human nature to have bad days, and those are sometimes out of our control. But the other times I am learning to narrow that gap and really try to give the best equally and I have found that I get the best back in return when everything is in sync.
I strongly believe relationships contribute to a longer, healthier and happier life but only if they are open and honest. I have found by being open and honest about myself to myself my relationships with other that really matter, last are much stronger. Having a better relationship or understanding of myself has improved the other relationships I have in my life.
Human relationships are something we don't have a manual in – and neither does one set of instructions exist to suit everyone. Different people will have varying perspectives but these have been the overriding lessons I have learnt through the relationships in my life.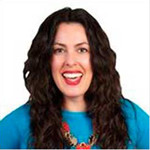 Do your relationships define you or refine you? – By Sophie Thorpe, Founder and Creator of 'Your Style Sister'
Most of us allow our relationships to define us. How someone treats us tells us what kind of person we are, and we accept this as the truth, be it good or bad. However I am a true believer that all relationships, from the bus driver to our nearest and dearest, are here to refine us. If we don't like how others treat us, then why do we allow it and what can we do to stop it?
It is also my belief that our biggest potential for growth is from our most painful relationships. It's often from the person we can't seem to let go of, no matter how badly they treat us. We often believe that the chemistry between us means that we are supposed to keep these people in our lives. I have experienced two key relationships of this kind in my life – the most influential was with my mother.
She was my best friend…and my worst enemy.
I have never laughed so hard with any other person. We both had intensely quick wits and could banter like quick firing pistols. We would laugh until our stomachs cramped, tears falling down our faces and we could no longer breathe. She was my closest confident, my sparring partner and my greatest teacher.
And I have never been so crushed by any other person. She was mentally and emotionally abusive. Her words were like pure venom with such a sting that she could wound me for days, even months, at a time. I had to learn to be one step ahead of her, just to survive.
Our relationship was both exhilarating and exhausting. At one point in my life, I thought that if I was to feel any sense of calm and peace, I would have to kill her, or myself, just to end the pain that was our relationship.
I became aware in my early twenties that my life was imitating hers. People would comment on how 'similar' we were and I knew they weren't just referring to our looks. My relationship with my mother 'defined' me for a very long time…And I blamed her for everything. I was this and that way because of her. My life was a mess because of her.
Finally, in my late twenties, I had had enough of her influence and I broke all contact. During the next eighteen months we only spoke twice. The first was on 7/7, the day of the London bombings. She got through to my mobile and asked if I was alright. I said I was ok. She said "that's good". We said goodbye. The second was not so pleasant. She called to re-connect and I said I would only have a relationship with her was if she went into therapy. She became spiteful and I hung up.
A few months later, after years of illness, my mother fell into a coma, never to awaken. She spent the next seven years in a vegetative state, only to finally pass away from a chest infection that stopped her breathing. She was alone when she died and I never got to speak to her again.
I swore I would never die the way that she did. I set about, relentlessly, working on my inner world to change my core beliefs about who I was as a person. I realised that my core beliefs were mirrored in how others treated me. As I began to change my core beliefs, those around me changed the way they treated me, or they left my life. Everything improved dramatically.
I finally allowed my relationship with my mother to refine me. I got the 'message' that she was teaching me all along – What do I believe about myself and do I like it? If not, change it!
Pay close attention to how other people treat you as you will find the answers to what you truly think about yourself in their actions. Thank everyone for their teachings, no matter how painful the lessons are…they are invaluable.
Thank you Mum, for everything.
For more information about Your Style Sister visit www.yourstylesister.com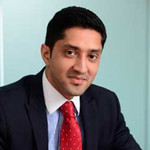 Don't leave your future behind – By Waleed Khan, Associate Partner,St. James's Place Wealth Management
Growing up as an Asian guy in Britain I have been blessed with an eclectic mixture of friends from all cultures, races and religions, including a very healthy contingent of female friends. I attended a mixed school and became accustomed to regularly engaging in discussions with my female friends about our future ambitions and career paths. Many of them wished to pursue careers as Doctors or Dentists, whilst others adopted a more traditional view and felt that they would inevitably marry and become full-time mums.
I got married last year to a beautiful woman in a real 'girl next door' love story. My definition of beauty in a woman is kindness, sincerity, creativity and support. My wife possesses all of these qualities and is just as beautiful on the outside as she is on the inside. Despite my good fortune I still have many female friends who have yet to meet their perfect partner. In fact, many of them have not met anyone at all and I am often asked "Do you know anyone you could set me up with?" My usual response is "I will have a think but what have you done about it yourself?"
Sometimes I find that my girlfriends have made none or little effort in the pursuance of a relationship. The main reason they often cite is having a hectic career and the importance of life progression. Whilst I totally support this, I do not believe that a career should hinder your search for a potential partner. Some women may feel that they have to reach a position of seniority before they choose to settle, which may be very late in life. Perhaps this is to ensure security and financial independence before committing to a lifetime of uncertainty, as they say marriage is a gamble. However, meeting your future partner and the pursuance of a career do not need to conflict with each other. In fact they can actually run simultaneously.
One of the reasons that attracted me most to my wife was her long-term vision and outlook on life. Although, she trained as an Accountant and pursued a career in Consultancy, ultimately her desire to support illiterate children in her native Africa and her passion for journalism is what really drew me to her. I believe that my role as her husband should be to support her to pursue those ambitions, even after we have a family.
So here's my 'relationship' advice for my girlfriends still looking for their perfect partner:
"If you are fortunate enough to meet the right guy, he will support you in achieving your goals and pursuing your ambitions. Academia is important but so is life experience. Marriage is a beautiful and long journey where you both work through life together. Your husband should be your guide to make the journey as seamless and enjoyable as possible. So choose wisely and find a man who will better you. His ambition should be to ensure you reach your ambitions. Your career is important but don't feel you need to succumb to the pressure of achieving highly at the detriment of leaving your future behind."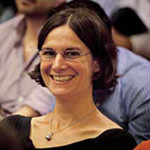 Who made me the person I am today? – By Pamela Thomason, Freelance Writer and Social Media Manager, The Sharan Project
As much as I enjoy spending time on my own I feel my life would be meaningless if my friends and family were not part of it.
My relationship with my family has not always been easy and my mother in particular was quite difficult to get along with. As I was growing up I felt she was very self-centred and a bit of a drama queen (as are most Italian mums!) I felt she interfered in my life and maybe this was partly the reason that I left my native country to build a life in the UK. However, I have to say I am grateful to my Mum for that. It may have been for the wrong reasons, but she inspired me to face the challenges of moving to another country and become a strong and resourceful person. Nearly twenty years on I can say that this was the best decision I ever made. And since moving away my relationship with my Mum has considerably improved.
I have a better relationship with the other members of my family yet I feel we have grown apart. My choice to live abroad, and subsequently travel around the world, have meant my horizons have been broadened and I sometimes struggle with the narrow-mindedness that comes with living in a small provincial city. Despite this I love them dearly and I feel I would be lost without them.
When I temporarily relocated to Italy last year I really bonded with my sister. We had always got along but as we lived in different countries and she had married very young we did not speak frequently. While we were finally living in the same city again we met for coffee almost every day and I treasure every single moment of it. I felt that our different lifestyles and ideas meant nothing compared to the mutual love and respect at the base of our relationship. I also know I can always count on her and she knows she can count on me. Not everybody is lucky enough to have a person like this in their life.
Then of course there are my friends. I cannot stress enough how important they have been for me. When I was growing up I was a very shy girl who lacked self-confidence. Being surrounded by people who appreciated me really boosted my confidence. If it had not been for my friends I would probably still be that girl today. if these amazing human beings like me then I can't be that bad after all.
It was also reassuring to find people who were like-minded. My family has not always being supportive of my life choices and although they accept me they often do not understand me. Sometimes you begin to doubt yourself thinking there must be something wrong with you. Then you speak to your friends. You only need to say a few words and they understand exactly what you mean and have probably felt the same way at some point in their lives. This for me is precious. The idea of belonging, the idea that there are people out there who are like you, that you are not some kind of weirdo for leading an unconventional lifestyle. My friends have taught me that I should always stay faithful to who I am and never surrender to outside pressure. I believe this is the basis for a happy and fulfilling life.
The Sharan Project is charity that helps women, particularly of South Asian origin, who have left home voluntarily, or have been forced to do so. They provide assistance and advice to help build an independent life. For more information please visit www.sharan.org.uk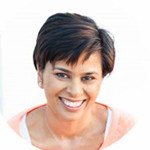 We are not islands – By Prabha Shiyani, Certified Integrative Nutrition Health Coach & EFT Practitioner
We are creatures of community – that's one of the reasons we've survived as a species. Our relationships with others and ourselves are critical to the quality of our lives.
I consider myself extremely lucky to be part of a big family and to have some amazing friends. And whilst as a family we may not see eye to eye and bicker sometimes, and I may not see my friends as often as I like, I know that they are there for me should I ever need them, and vice versa.
This became very apparent when several years ago I had a major health crisis. During my two weeks in hospital there was not a moment (other than at night) when someone wasn't with me. They would read to me, play board games, bring magazines and just generally stop me from dying of boredom. These wonderful people kept smiling and stayed positive for me even though they were worried. They lifted my spirits, and I believe that this played a huge part in my healing journey.
I also around this time started to look at the relationship I had with myself. What do I mean by that? Well, if you are having negative and disparaging thoughts and feelings about yourself it is difficult to have the kind of life we want. If you feel you are not worthy of love, you will find it difficult to attract a mate that you can have a loving happy relationship with. We need to be kind and respectful in the way we speak to ourselves if we want the same kindness and respect from others.
Relationships and connections don't just affect our spiritual wellbeing either, they can have a profound effect on our physical wellbeing too. Social bonding, interaction and co-operation are programmed to be intrinsically rewarding to humans. These actions can feel just as good as taking a drug that affects our dopamine system – our feel good hormone. You get a rush of dopamine in response to pleasurable activities like food or sex. On the flip side, if you don't have enough, you might feel sluggish, uninterested in life and even depressed. So, rather than rushing to the sticking plaster solution of anti-depressants, let's start addressing the underlying problem.
In today's modern society everyone has their head down, rushing from one place to another. When we're not, we have our face glued to social media or TV. Whilst this can give us the illusion of being connected, they are just a distraction from creating and nurturing real-life relationships. Is there any wonder that people are feeling lonelier than ever, that depression rates are on the rise and so are eating disorders? When I see clients I explore the health of their relationships as well as the health of their body because they are so connected. For example, if someone is overeating, there are likely to be underlying issues and the chances are that loneliness and lack of connection are fuelling a person to overeat. Overeating is the symptom and no amount of dieting is going to fix it unless you get to the root cause of the symptom.
I believe that so many of the problems we are seeing in society today are due to the disintegration of the communities that we used to value. Most of us don't even know our neighbours anymore. We may think that we don't need anybody and that we can get through life by just looking out for ourselves but the truth is we'd be kidding ourselves. Joy comes from connection to others and as the saying goes 'a problem shared is a problem halved'. Make time to nurture your relationships with your loved ones. It's critical to your wellbeing and happiness.
Prabha Shiyani is the founder and director of Flourish Wellbeing Ltd and is passionate about helping busy women find their balance so that they can be the best, healthiest version of themselves. Find out more at www.flourishwell.co.uk