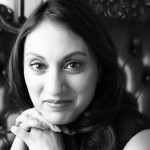 To kick off a brand new year we'd like to thank this month's contributors for sharing how making a 'Fresh Start' has had an impact on their life and their advice for others who may be contemplating or going through a period of change.
This year why don't you consider writing for GRIT? Our new 2016 topic list is now up and WE contributors come from all walks of life and backgrounds. Some have never written before but every single one offers a fascinating, personal insight or has an inspirational story to share. Please view this year's topics to see which ones appeal to you.
Following our popular series on 'What should we tell our daughters?' during 2015
http://www.womenempowered.co.uk/grit_feb_2015.html, next month we want your advice for our sons. Do you think there is too much pressure on boys to succeed? Are boys as likely as girls to be affected by gender stereotypes? How can the way we bring up our sons affect their future relationships with women? Please share your thoughts and views for our next generation. Send your article for February's issue (400-700 words) to grit@womenempowered.co.uk before 20th January, 2016.
Wishing you all an amazing year ahead.
Sunita Behl, Editor.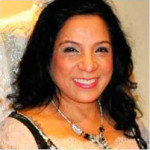 Believe in yourself – By Mani Kohli, Founder of Khubsoorat Collection and the British-Asian Fashion Network
A fresh start can be governed by many things; our emotions, circumstances, career decisions, business environment and most appropriately our age. My first fresh start was when I became a runaway bride at the age of 18. This triggered unexpected opportunities that would lead me to reassess my priorities throughout my life.
I quickly realised that I had made a wrong choice of life partner, which left me bewildered and in an exposed state in a foreign county, the United Kingdom. I was raised in an army home and was convent-educated in sheltered India. My upbringing was put to the test during the first year of my failed marriage. I became a mother to my beautiful daughter, who then became my reason for choosing to bring in an income to raise her. Divorce was taboo in my traditional family and my forced co-habitance with my husband, resulted in the birth of a wonderful son. My son further reinforced my belief to consolidate my income to enable me to live a dignified life. In fact, my son's birth was a decisive factor for change……..divorce! End of a relationship!
The hunger and need to provide for myself and my children brought about the birth of my business. I used my astute head for business, creative talent and the desire to be seen as beautiful in life……. my identity! Freedom from my husband brought a lot of responsibility and I had to become self-reliant. I was a proud army officer's declined daughter. Determination, discipline and clear focus resulted in the growth of a business that would cater for many Asian women who were hungry for a common goal…..acceptance in a foreign country. I used clothes as my language to reach out.
The desertion of my husband left me in debt but I relentlessly struggled to not only clear the backlog but also build grounds for a new establishment. As a young, single woman in her late twenties and mother of two, my business was built by believing in myself. I was so convincing that my first bank loan was granted without collateral and was a huge stepping stone towards my first shop in 1990.
Over the next ten years my hard work and changing circumstances resulted in allowances…..I was able to buy my own first home – a one and a half bedroom flat, I paid for private school fees for my kids and funded and showed my first collection entirely with my own money! I began to get exposure in magazines, catwalks and was named a "fashion designer"! There was so much to grasp, to hold on to, and to value.
However after ten years I then got hit again by my ex-husband when he took me to court for 50% of my assets! Shattered and ignorant, I faced the courts again but this time my solicitor stood rock solid with me to prove my income. The battle lasted for three years however destiny played its part. I felt cheated by God when my ex-husband died 2 days before I won the final hearing in court.
I put to rest the one man who had shaped his disowned family's path. However, it was at this stage that I realised that despite everything he had left me my most valuable assets…….my children. They were the hands I held and walked with during the next stage in my life. And my children have indeed proved that I did not fail in my upbringing and responsibilities. Today they are testament to all my investments…emotionally and in business.
My daughter created a beautiful married home with an honourable, respected man and has two beautiful children. In spite of graduating in Business Studies with textile management and gaining a Masters in Computer Science she decided to pursue my business in New York. She has now initiated a design-led small production unit in Delhi, India. My son, has gathered more than fashion…he mastered the art of his inherent talent of dance and has put his hand to stylised fashion which I am sure has no boundaries.
Having lived and worked in the fashion world for 365 days a year, for 32 years and dreaming of touching the sky I really have no regrets. I was given different phases in my life and it was up to me to shape them to suit my means.
Today, I feel that I need to reassess my priorities again and herald another fresh start at a mature age with grace, dignity and purpose. I hope to leave behind a legacy rich in a culturally-influenced wealth of creative energy and knowledge. My passion and zest for life will not allow anything else.
To view Mani's latest collection please visit www.khubsooratcollection.com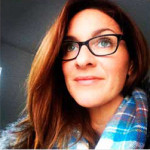 With change comes opportunity – By Marie Skilling, Author and Business Consultant
I was born in England but immigrated to Australia in my mid-twenties for love. When I split with my partner I decided to join my parents who had immigrated to Canada. With all the drastic changes in my life I arrived feeling shell-shocked. I wasn't sure who I was, what I wanted or how to begin again. It took some deep soul searching to get to the bottom of 'What's next?'
Soon after I arrived close friends, who had also immigrated to Canada, were getting married. At their request, I picked up my beloved SLR camera and photographed their wedding. The bride shared the photos with her event management colleagues, and her art director declared an interested in talking to me. Our conversations lead to my first event photography shoot. I didn't charge for my services. I was just honored to be involved in an event that had Sarah McLachlan, Sheryl Crow and Neil Young gracing the stage. It was a phenomenal experience.
The events company shared my photographs with several clients which resulted in me landing the most exciting photography job I have ever had. I became the house photographer for the Government of Alberta during the 2010 Winter Olympics. I photographed press conferences, athlete interviews, musical stage performances, art exhibitions and candid athlete action in the Olympic Village in Whistler. After that, my final photography job in Canada took me full circle – I photographed the art director's wedding.
But what did all of this do for me?
My change in circumstances opened up a whole new life. I just needed a reminder of who I was and what I was capable of doing. The transformation was deeply enriching. I reconnected with my creative abilities and I reawakened hobbies and skills that I had buried.
From photography I evolved to writing. My writing journey began with poetry by simply picking up a pen to write about my feelings – my despairs and my hopes. The word 'journey' is at the essence of my writing and I often describe a transition from being stuck to finding freedom. And I have now recently published my third book; a tale about a little boy who seeks adventure. Along the way he meets characters that develop him throughout his journey. I aim to demonstrate that the steps he takes are just as important as his final destination.
Unexpected changes will always appear in life; they are inevitable. However, change can also present new opportunities. Our eyes just need to open wide enough to see them. It took me a while to realize this but, once the concept sank in, I stopped looking back.
Step-by-step I now walk towards new horizons and look forward to what is yet to come. I am fully aware that the journey is never just about me. It's about how I walk with the people on my shared journey. It's the journey that matters, even when it begins with an event that feels devastating at the time. And if this happens, then starting with baby steps is just fine. We rarely know our ultimate destination, but we do know how to take the first step towards something new and different.
To find out more about Marie and her books please visit www.marieskilling.com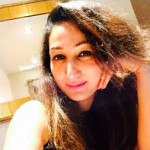 What do you do to LIVE? – By Charmi Mandavia, Charmi Creations
Routine can be a good thing, bringing with it discipline and a sense of control to our lives. But deep down inside, don't we all wish for something different, something that adds more value to our lives? Surely, restaurants, bars and socialising cannot be the only exciting and satisfying thing in our lives?
Most of us will happily continue the way we are used to living and there is nothing wrong in that. But some of us will want to make a change. This is something that happened to me and led me to reassess my life and my priorities.
Having been married for over 17 years, I had become very comfortable within my own skin. I had a successful business, two beautiful children and a loving and caring husband. So what made me want to change? What made me want to step out of my comfort zone and try to explore what more I could be capable of? My identity was my work and my family, which is true for most people. And I was very proud of it too. However the idea of reinventing myself as a person excited me.
It all started in a bar, as many good stories do. I had met an old friend after several years and she asked me what I did to live? I said I owned a business and had a lovely family. My friend stopped me, saying NO – I asked what you do to LIVE? My friend reminded me of what I was like when I was younger – sporty and fierce. I laughed it off, saying that was 20 years ago – I had not played badminton, roller-skated, cycled or run any races since then.
But her words haunted me and triggered something inside. In December 2014, I ran for 31 consecutive days – 5km every morning at 5.30am. Nothing was going to stop me; rain, snow, darkness – nothing. Of course, I couldn't run like I used to! So instead I walked, jogged, stopped and then jogged some more but I would only come home after my 5km was finished. To give myself a target, I signed up for my first half marathon in March and also decided to climb a mountain (Mount Kenya).
I started loving my life. My fitness levels got better day by day and I was losing weight – a bonus! I ran my first half marathon for Cancer Research in March 2015. I particularly remember the last 3km, where my body had nothing left and my race strategies were failing. The only thing I had was a positive approach – my mind was making my body move, even though my body was screaming no and my eyes were desperately looking for the finish line.
That's when I believe I had pushed every limit possible. What a high! What an achievement and sense of pride I felt. Since then, I have run three more half marathons and three 10km races, trying to beat my personal best in every race – this is when I realised how competitive I am – with myself! A week after my first half marathon, I climbed Mount Kenya, did my first every sky dive and went white water rafting. After that I even bought myself a road bike and started cycling. I can proudly say I have now LIVED one year of this new lifestyle. I am running the London Marathon in April 2016 – 42km is going to be a real challenge, but I look forward to it.
My life has changed for better. My kids love to see their mum has a passion, not just for work but for something she enjoys doing. I want my kids to LIVE, not just to work, and to be able to love what they do too. This is a different way of life for me. I can't explain how in many words but the things that used to interest me, like shopping and parties, just don't interest me as much anymore. I have started living life for myself.
Charmi Creations designs bespoke Indian and Fusion Bridal wear. For more information visit www.charmicreations.com, Tel – 01923 5195, . Mob – 07714 038469, Twitter : @CharmiCreations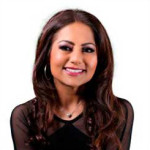 Go for it! – By Smita Joshi, Author of Karma and Diamonds Trilogy
My childhood left me with deep wounds and questions about life. I desperately sought answers and for many years my work became my refuge.
My professional journey was borne from humble beginnings. I started as a retail manager in London at the age of 19 but craved bigger challenges. I moved onto a role as a sales executive for a large technology firm where I discovered I had a talent for winning business contracts and ten years quickly flew by. I then spent the following 15 years winning multi-million pound IT service contracts. During those years, I took up yoga and meditation and something intriguing reared its head; a sense of my deeper, 'Inner-Self'.
The turmoil of my early life began to stir again and feelings of "there must be more to life than work." My curiosity to learn more about my 'Inner- Self' set me on a path of self-discovery across the world. My travels took me to ashrams of India to and adobe villages in the New Mexico desert.
During my soul searching my wounds healed. As I began to find answers to the many troubling questions about my past, I also gradually became a different person. I wanted to share the amazing discoveries I had made with others who may also be dealing with their own life challenges. And thus a new desire manifested; one day, I would write books about my journeys and the power of the Inner-Self.
My dream began to take on a life of its own. I only had experience of writing business proposals and my personal journal so I suffered from many false and disheartening starts. However, eventually I had everything I needed to be able to step away from my career of 25 years and begin afresh. I had the resources and support – all I had to do was hand in my resignation. And yet, I hesitated.
I misinterpreted my huge excitement and anticipation as fear. But why was I afraid? This was a golden opportunity to be bold, step positively away from my past, make new discoveries and explore new possibilities. Until now, I had countless reasons to hold me back but now, the strength of my desire had woven my circumstances into such a beautiful tapestry that I was actually in a position to make the leap. And there it was: My fear was of taking that leap of faith and believing in myself.
However, I did make that leap and the result was a trilogy of books called Karma & Diamonds; my journey of self-discovery across continents and lifetimes. I also dived deeper into yoga and gained qualifications to become a yoga teacher.
A fresh start, big or small, is as exhilarating as a bungee jump or scuba diving. (And I've made many of them.) It's a place of potential and creativity. My fresh start has been invigorating and transformational. It's shown me that how we experience life; our achievements, disappointments, happiness or suffering is ALL a matter of our own perspective; the angle from which we view life.
So small or big, my advice is to make a fresh start often. It's an opportunity to take charge of your thoughts and your feelings and to create the experiences you yearn for in life. If your inner 'voice' is beckoning you to step out of your comfort zone, just go for it! You will discover that you are stronger and more able than you thought possible. Overcoming fear of change is much simpler than you think. Here are my tips:
1. Close your eyes, take a few deep breaths and immerse yourself in how amazing it feels to make that fresh start. Really allow yourself to sensually experience being there. Enjoy that process. Smile.
2. Put sticky notes around your home and office to remind you saying: "A mountain is climbed one step at a time." Then take one step and then another.
3. When obstacles knock you off your feet, and they will, get back up. Reset your gaze at the mountain peak, i.e. your vision, and take the next step. With enough steps, your confidence will gather momentum – and you'll already have achieved more than you thought possible.
4. Above all, drop the harsh self-judgement. Feel good about yourself – this will do more to propel you forward than anything else.
Let 2016 take you into new heights of joy and fulfilment!
Do you want to write for GRIT?
Each article needs to be submitted to grit@womenempowered.co.uk on the 20th of the preceding month (eg an article for June should be submitted by 20th May). The newsletter will go out on the 5th of each month to our subscribers and will be uploaded on our website and our social media will direct to it.
All submissions should be between 400-700 words. They can be written in the first person where appropriate. They will be edited for content to ensure suitability. Please ensure they are verified with source if it contains factual content. If the topic is personal then please ensure that you have been mindful of others where appropriate and ensure your account is as accurate as possible. Articles submitted will be chosen at the discretion of the editor. Please also be sure to include a photo and your name as you would like to be credited (title / position etc if applicable)
2016 GRIT Topics
JAN 2016– My Fresh Start
Have you made a fresh start that has had an impact on your life? Has changing your career or relationship, a life event or moving abroad triggered an unexpected opportunity or made you reassess priorities? We want to hear how a fresh start has changed your life and your advice for others who may be contemplating a change.
FEB 2016 – What should we tell our sons?
Following our popular series on 'What should we tell our daughters?' during 2015 this year we want to hear your advice for our sons? Do you think there is too much pressure on boys to succeed? Are boys as likely as girls to be affected by gender stereotypes? How can the way we bring up our sons affect their future relationships with women? Please share your thoughts and views for our next generation.
MARCH 2016 – Mum's the word
To celebrate Mother's Day on Sunday 6th March this month is dedicated to all the women who arguably do one of the hardest jobs in the world! What 'words of wisdom' did your mother pass on to you? How did her views or values shape you into the person you are today? What have you learnt since becoming a mother yourself?
APRIL 2016 – The Bigger Picture
It is natural to focus on our immediate world. However what are the bigger global issues that impact us on an individual basis? Do you feel strongly about global politics, child poverty or human trafficking? We want to hear about any major global issue that you feel passionate about and how it impacts you.
MAY 2016 – Is it still a man's world?
Women today are excelling across multiple fields. Do you feel your gender has hindered or helped your career? Do you believe women now have as many opportunities as men or that women still take on the burden of childcare and struggle to 'have it all'? Do you feel less like a woman and more like a man in today's world? Please send us your views.
JUNE 2016 – We should talk more about …
This month we want to hear about any issue that you feel we do not discuss enough but should discuss more. This is your opportunity to have your say and raise awareness of any subject big or small.
WE needs YOU!
Thank you.